PAG SCHEDULE
STEWARDSHIP
Please fill out your pledge card and submit it to the any members of the
Stewardship Committee
. We need your commitment in order to work within our budget. We need your time, talent and treasure to keep St. John's serving in this community.

ALTAR GUILD REQUEST
Ladies, if you drink from the chalice, please blot your lipstick before going up for communion. Lipstick is very difficult to remove from the purificator, the altar linen used to wipe the chalice.
MINISTRIES/PROGRAMS
Use your God Given Gifts!
If you are interested in taking part in any of the Ministries/Programs offered at St. John's Episcopal Church, please reach out to the contact persons for each group at the email address below. If you would like to suggest a new program please reach out to us as well. E-mail Address:
vestry@stjohns-springfieldgardensny.org

VIDEO LOG OFFER
Any member of St. John's who would like to create a Video log to share his/her experience as a member of St. John's please see Sharon Hunter, our Webmaster. There is no charge for this offer.


Email Addresses
The diocese has requested email addresses from all parishes. If you have not given us your email address, please add it to the list on the table at the rear of the Church.

Schedule of Service

Please visit the
Ministries link
on the left navigational bar to view the Schedule of Service for:
- The St. Mary's Altar Guild Schedule
- The Counters'Schedule
- Lay Readers Schedule
- LEMs Schedule
- Acolytes Schedule

ATTENTION!!

All Organizations: If you are planning any activities for (2016 - 2017). Please give that information to the wardens immediately! We will be working on the calendar and it is important not to have too many activities plannned close together.
Vestry Web Page

Ministries & Programs
Reminder to visit our Ministries and Programs Web Pages to see additional acitivites taking place at St. John's Episcopal Church. St. John's invites you to take part in as many of our programs and ministries as you wish. Please see our Ministries and Programs Link in the navigational bar to the left of each web page.
HEALTH MINISTRY

Just a reminder that the ladies of the Health Ministry are available to check blood pressures at any time. The most important health rule that you can follow is to remember to wash your hands frequently. There are germs everywhere....on other people's hands, on the supermarket cart handle, on door knobs, on handrails, on computer keyboards, on buses, trains and planes.. ..everywhere!.
Click Here To Visit Health Ministry Page


KNITTING/CROCHETING PARTNERS
If you have finished scarves and hats, please give them to Barbara Taylor so that they can be sent to SCI.


FUNERAL PLANNING
Have you filled out your funeral planning sheet yet? Have you given it to the priest, a trusted loved one or at least put it where someone can find it? Do it today! Remember, we are not promised tomorrow.
In Sadness

Dear fellow members,
It is with sadness that we announce the passing of Eleanor Robinson on Thursday, March 30th, just one week after her 90th birthday. Eleanor has been a long time member of St. John's and will be missed dearly.
The viewing and funeral arrangements for Eleanor Robinson are as follows:
Viewing:
Wednesday, April 5th
Crowe's Funeral Home
107-44 Sutphin Blvd (corner of Lakewood Ave.), Jamaica
4-7 PM
Service:
Thursday, April 6th
St. John's Episcopal Church
137-57 Belknap St
Springfield Gardens, NY 11413
10:00 AM
Burial: Woodlawn Cemetery in the Bronx
News From
Around The Diocese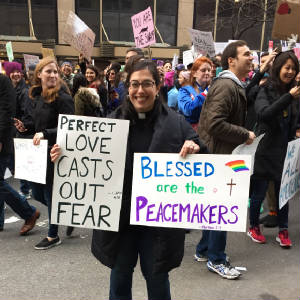 Women Clergy March on Washington DC and NYC
Several clergy from the Diocese of Long Island traveled last weekend to participate in the Women's March on Washington. Others went into Manhattan for the Women's March on New York City, one of many "sister marches" in cities all across the United States and the world. The combined marches in the United States were one of the largest demonstrations in the country's history.

Annual Parish Meeting
Please note that the Annual Parish Meeting will take place on Sunday, January 28, 2018. The booklet for the annual meeting will be made available for everyone to read the week prior to the meeting. All active church committees and groups must submit their typed 2017 reports to be included in the booklet no later than Sunday, January 7th. Please submit your reports to Rev. Samuel either in person or via email:
revpsamuel.stjohns@gmail.com.
Holy Baptism
Baptism is appropriately administered within the Eucharist as the chief service on a Sunday or other feast. Holy Baptism is especially appropriate as the Easter Vigil, on the Day of Pentecost, on All Saints' Day or the Sunday after All Saints' Day, and on the Feast of the Baptism of our Lord (The First Sunday after the Epiphany). Please contact Mo. Samuel to make arrangements for baptism.
Funeral Arrangements for Arthur Mitchell
Sunday, January 14th
Foster Phillips Funeral Home
Viewing 2-6 PM
Funeral Service 6:00 PM
Interment – Calverton Cemetery – Monday Morning
Condolences may be sent to
The Mitchell Family
220-22 138 Road
Springfield Gardens, NY 11413
Presentation of Gifts
Harvest Litany
Harvest Sunday presentations of gifts litany, held on Sunday, November 19. Priest, The Rev. Pauline A. Samuel.
ADVENT
SEASON

Advent and Lent are periods of preparation and repentance and are represented by the color purple. The feasts of Christmas Day and Christmastide, Epiphany Sunday, Baptism of the Lord Sunday, Transfiguration Sunday, Easter Season, Trinity Sunday, and Christ the King Sunday are represented by white.
Gratitude
Sunday
Gratitude Sunday, November 26th, 2017
Gratitude is the quality of being thankful; are you ready to show appreciation for and to return kindness?
St. John's
Father's Day Service

CLICK HERE TO VIEW MORE PICTURES

A Sad Note
Roland T. Carter


September 8, 1928 - July 27th, 2017
It is with sadness that we announce the passing of Roland Carter, a long standing member who had been shut in for a couple of years. He was a very active member of the Brotherhood of St. Andrew, a vestry member, and participated in other ministries. He leaves his wife, Wilhelmina, sons, and many other family members. The funeral was held here at St. John's on Friday, August 4th.

WELCOME
THE REV. CANON TERENCE ALEXANDER LEE
PLEASE JOIN US IN WELCOMING
TO ST. JOHN'S EPISCOPAL CHURCH
THE REV. CANON TERENCE ALEXANDER LEE
The Rev. Canon Terence Alexander Lee is the rector of St. Gabriel's Anglican Episcopal Church in Hollis, Queens. He celebrated his first mass at St. Gabriel's on Sept. 4, 2010. He graduated from the College of Charleston and received a master's of divinity from Nashotah House, an Episcopal seminary in Nashotah, Wisconsin. Canon Lee will be our designated priest until a permanent replacement priest is assigned to our Church.

St. John's lead Girls Scout Troops identified below introduced themselves to St. John's on Sunday, March 12th. Troops explained the Girl Scout Vision and objectives as part of a team effort.
Troops:
Troop 4207 - Brownies and Daises
Troop 4068 - Juniors
Troop 4707 - Cadets and Seniors
Vestry Members
Installation 2017
Congratulations to all our Vestry Members. Under the Canons of the Episcopal Church,
the Vestry of St. John's Parish is responsible for the economic health of the Parish and for providing support for the ministry of the clergy.
The Vestry consists of the two wardens and six members who are elected by the members of the congregation. The eight members serve staggered terms.
Vestry members are eligible to serve two consecutive 3-year terms as voted by the congregation and the Wardens can serve up to two consecutive 2-year terms.
YOUTH GROUP
The St. John's Group is sponsoring a clothing drive for the people of Haiti. The collection box is in the undercroft. They are also collecting children's books, new or gently used.
GIRL SCOUTS
The used stamp collection continues until Dec 31. Please save the stamps from your Christmas cards and deposit them in the basket on the table in the undercroft. The
St. John's Girl Scouts
are recruiting girls ages 5-18 years old. New leaders are also needed. Contact Afotan Fadairo, lyabo Fadairo or Roslyn Sealy for additional information.
90th Anniversary Celebration
As part of our 90th Anniversary celebration, we are asking members of the congregation to give a sacrificial $90.00 above and beyond their regular pledge. Envelopes are available for this special gift. It may be given at any time during the 90th Anniversary celebration year. Thank you to those who have already contributed.